It's the most wonderful time of the year and festive foods are back on the shelves. This Christmas, pair your favourite treats with a selection of different wines. 
From sparkling wines to Pinot Noirs, there are so many different types of wines that can just add something special to your festive treats. These are the best Christmas wines and the best foods to pair them with.
Pairing Wine With Your Festive Foods
Sparkling Wines
Sparkling wines and fizz is a great way to start your Christmas festivities. Whether you prefer red, white or rosé sparkling wines, there are options for all. 
Our 2017 Sparkling White Wine won a silver medal in the International Wine Challenge 2021. This sparkling wine is a rose gold colour with wonderful yeasty, bready notes with honeyed pear, orange blossom, honeysuckle and hazelnut. 
Our 2018 Sparkling Red Wine is unusual yet very moreish. A blend of Regent and Rondo Grapes, this sparkling wine with a hint of tobacco leaf, pepper and bramble, our Sparkling Red Wine is great for a family get together. 
Our 2018 Sparkling Rosé Wine is crisp but playful. With notes of wild strawberries and redcurrants and a floral rose petal finish. This wine is made from cabernet courts grapes and can be complemented with a bruschetta board. 
Wine Pairings With Turkey and Trimmings 
Christmas lunch with all the trimmings and paired with wines with a fantastic combination. From the sweet cranberry sauce to the succulent turkey, the flavour combinations are something not to be missed. According to The Wine Society, a young Pinot Noir is an easy going combination that doesn't clash with the turkey. Fruitier wine such as a Zinfandel is also a great pairing.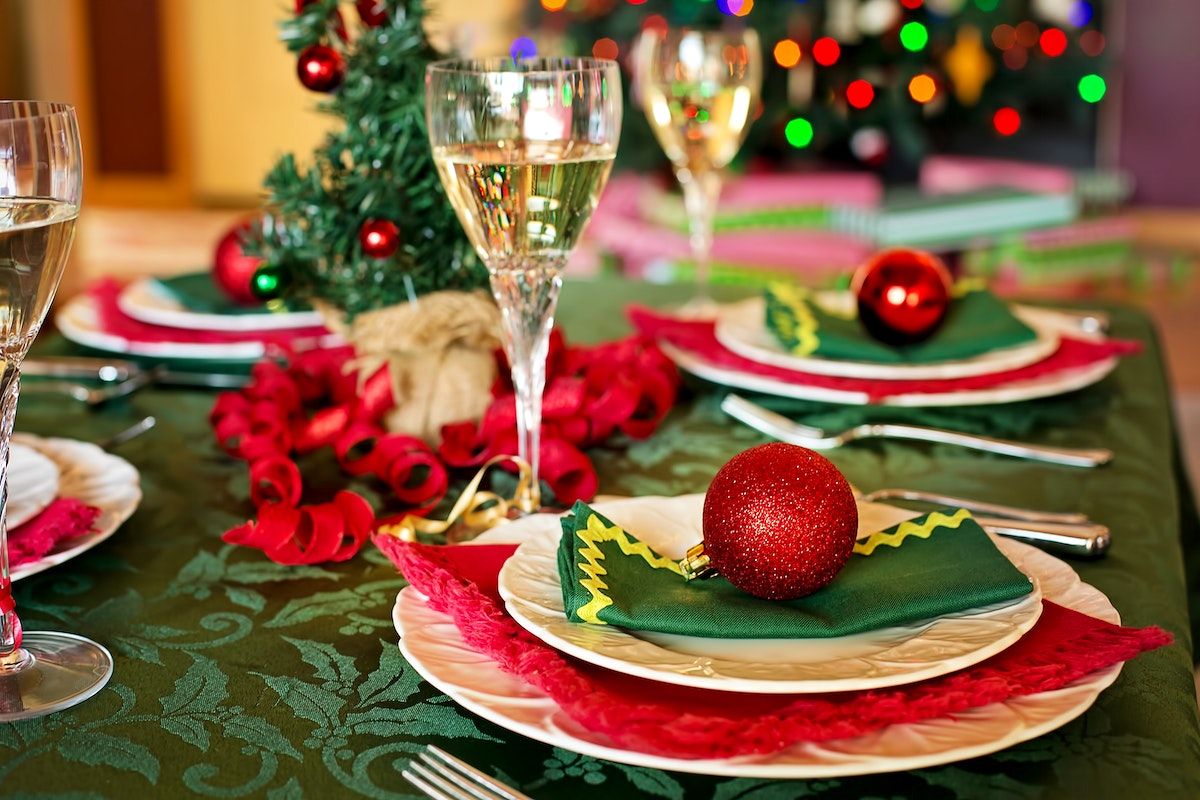 Wine Pairings For Vegetarians Mains 
If you are looking for a pairing with a vegetarian Christmas meal, there are plenty of options. 
If your main is a deep savoury roast or tarts, pair beautifully with a white Rioja or Rhône. If you are having a dish with mainly mushrooms, try a Pinot Noir. A nut roast pairs nicely with a fruity wine such as a New Zealand Chardonnay or Australian Shiraz. 
Wine Pairings With Cheese
What could be better than wine and cheese? There are some wines that go better with certain cheeses. A Claret goes well with Cheddar or a Sauvignon Blanc with Feta. Our Sparkling Rosé Wine is a great choice for Bruschetta. 
For more information for wine and cheese pairing, check out our article on The Best Wines To Go With Cheese. 
Wine Pairing With Desserts
And finally the dessert! With so many options to choose from a chocolate Yule Log to a traditional trifle, it's never easy just to choose just one. Here are some great wine pairings:
If you are going for a chocolate Yule Log, try a Maury or Banyuls.

If you are going for a mince pie, try a dessert wine such as Vintage Port.

If you are going for a traditional Christmas Pudding, try a Tawny Port. 
Wine Gifts 
Wines also make great Christmas gifts for wine lovers and enthusiasts. At Colemere, we have a range of products, wines and subscriptions that will make the perfect gift. 
Our Christmas present boxes contain a bottle of sparkling wines and a candle for just £45. Our boxes are available with either red, white or rosé sparkling wine. The candles are available with either a Christmas Spices, White Christmas or Christmas Nights scent by Ashleigh & Burwood. A handwritten note is available upon request. 
For more gift ideas, wine products or subscriptions, check out the Cellar Door. 
And there you have it: the best wines for Christmas and festive food pairings! For more tips and news, check out our blog or follow us on Instagram and Facebook.
Merry Christmas and a happy new year from the Colemere team.